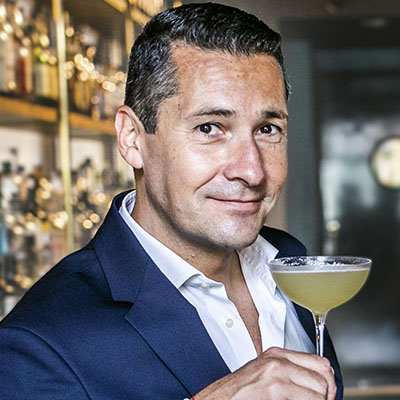 Links
Bio
David Cordoba, also known as "Mr Daiquiri", is one of the leading bartenders to emerge from Latin America and one of the most recognisable names in the global spirits and cocktail community.
Born and raised in Argentina, David found his love for mixology as he worked the bar scene whilst at university in Buenos Aires, and in early 2000s he travelled to Europe where he perfected his craft, working alongside big names in the industry who inspired his journey to date. He is regarded as one of the leading authorities on rum, having worked in influential cocktail bars across Europe & Asia, as well as having been Global Brand Ambassador for Bacardi for 6 years, whilst educating, training and developing one of the most prominent global platforms for bartenders, the Bacardi Legacy Cocktail Competition.
In 2014, David moved to Singapore where he took on the role as Portfolio Director for Proof & Company, who are giants of spirits distribution in Asia, liaising with independent producers to develop their brands all over Asia Pacific. During his time in Asia, he continued travelling extensively working as a mentor and judge for several global competitions.
Since moving back to Europe in 2017, David has followed his dream by focusing his time and energy on creating his own unique blend of Latin American and Caribbean rums, with a distinctive label inspired by a family tradition of fortune-telling amongst the women he grew up with. Pursuing his true passion for rum, he is proud to represent his legacy and vision for better tasting rums by creating 'The Lovers Rum', combining culture, design, emotions and fantasy into a special blend. The Lovers is now in distribution throughout the world, where David has participated as guest bartender in prominent cities such as Paris, Rome & London, as well as hosting online educational events and competitions with his rum.
Experiences
• Finalist and winner @ several cocktail competitions throughout 2007-2014
• International Brand Ambassador of the year @ Tale of The Cocktails in 2011, 13, 14
• Rum Ambassador of the Year (International) @ Golden Rum Barrel Awards in 2011
• "Mejor Coctelero con ron del año 2013" @ International Rum Conference, Madrid in 2014
• Named World's 10th Best Brand Ambassador @ Drinks International in 2014
• Global Brand Ambassador @ Bacardi from 2008-2014
• Led Bacardi Global Legacy Competitions for 5 years
• Portfolio Director @ Proof & Company from 2014-2017
• Founder @ Mr Daiquiri Pte Ltd
• Founder @ The Lovers Rum
•