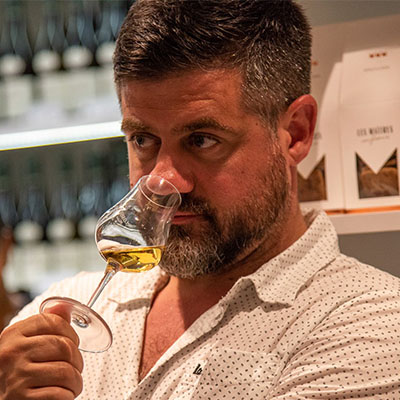 Bio
Créateur et Gérant de plusieurs V and B ( 230 Cave / Bar en France ) en Picardie depuis 2012 ( Beauvais, Chambly, Trie Chateau et Amiens les Halles ), Ambassadeur Spiritueux et élu meilleur V and Biste de France France section spiritueux en 2019 et finaliste en 2020, grand amateur d'alcool en tout genre et curieux de nature, il a également participé depuis 2017 à de nombreuses reprises aux sélections des embouteillages spécifiques pour le réseau V and B ( Depaz, La favorite, HSE, Trois Rivières, Longueteau, Rhums de Ced, plantation, Saint james… ). Ses différents voyages aux Antilles, et ses nombreuses visites sur les salons professionnels lui ont permis de tisser des liens étroits avec quelques professionnels des spiritueux et de créer des amitiés sincères avec plusieurs d'entre eux.
Aujourd'hui son rôle a changé et la gestion des sociétés devient prépondérante et occupe pratiquement tout son temps, lorsqu'il le peut il prend encore bcp de plaisir à découvrir, visiter, déguster….
Experiences
• 2010 à 2012 : Juré au concours de dégustation des vignerons indépendants
• 2011 : Formation Wset Niv2
• 2012 : ouverture d'un V and B à Beauvais ( 60 )
• 2017 : Ambassadeur Spiritueux pour le Groupe V and B
• 2018 : Ouverture d'un v and B à Chambly ( 60 )
• 2019 : Meilleur V and Biste de France Section spiritueux
• 2020 : Ouverture d'un V and B à Trie Chateau ( 60 )
• 2019 : Participe activement à l'élaboration de la stratégie produits du groupe V and B en tant que consultant
• 2020 : Finaliste du concours super MVF ( les podiums des 3 univers se mesuraient en confondant leurs 3 domaines de prédilection )
• 2021 : ouverture d'un V and B à Amiens Les halles du Beffroi ( 80 )
• 2021 : En cours de projets collaboratifs....