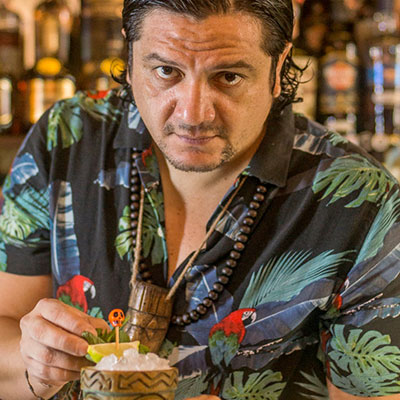 Links
Bio
Nando Córdova is a renowned Peruvian bartender, educator and promoter involved in the beverage, education and entertainment industry for over 20 years, specializing in branding, rum and tropical cocktails. In 2016 he was recognized for its track record as "Best Rum Bartender" by the International Rum Conference in Madrid and is considered one of the benchmarks for rum and Tiki cocktails in Latin America.

His passion for rum led him, since 2017, to organize and direct Kontiki Lima Tiki Fest, a festival that brings together bartenders from the region and influential characters dedicated to the education and promotion of Tiki culture, as well as the Lima Rum Festival, a space within KLTF that brings together industry experts and the best rum brands in the local market, in order to promote the consumption and value of sugar cane distillates. In 2019 he opened his bar The Parrot Shadow Rum Bar & Tiki Cocktails.

Under the Coctelstudio platform, Nando generates content and sessions for the training of young bartenders, introducing them to the world of rum and Tiki cocktails.
Experiences
• Best Rum Bartender 2016 @ International Rum Conference Madrid
• Rum XP Judge @ Miami Rum Festival 2018
• Master Rum Judge @ Rhum Fest Paris 2018
• Founder @ Kontiki Lima Tiki Fest
• Founder @ Lima Rum Festival
• Founder & Director @ Coctelstudio
• Founder @ Nando Córdova (RUM)
• Cocktails Founder @ La Boutique del Ron
• Co-Founder & Director de Bebidas @ The Parrot Shadow Rum Bar & Tiki Cocktails
• Co-Founder @ Rum Club Perú